Co-Teach! A handbook for creating and sustaining classroom partnerships in inclusive schools.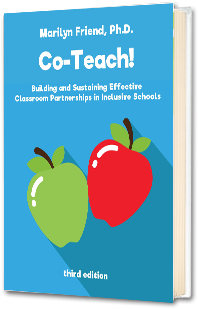 The Co-Teaching Connection
As more and more students with disabilities and those for whom English is not their first language are educated in general education setting alongside their typical peers, co-teaching has become an important way to accomplish two purposes: First, it ensures that students are accessing the same curriculum as their peers, an option nearly impossible when services are offered only in a separate setting. Second, it makes possible the delivery of specialized services that are integrated into daily lessons.
This website is dedicated to providing information and resources to educators and parents about co-teaching and helping them in problem solving to ensure student success.